Norman Knight Nursing Center for Clinical and Professional Development
Promoting lifelong learning by developing and facilitating educational opportunities that advance excellence in patient care.
Transition to Practice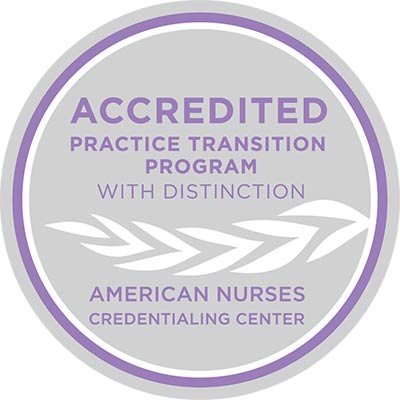 Overview

The Transition to Practice Program (TPP) at Massachusetts General Hospital provides a newly licensed nurse (NLN) with a solid foundation that is needed to become an independent and functioning clinician who will deliver safe patient care. The TPP is a 12-month comprehensive program that incorporates a centralized onboarding process, development of specific knowledge related to the patient population of that unit/service line, skill acquisition, preceptor support and support from the nursing leadership team. Upon completion of the centralized onboarding process the NLN will as part of the precepted experience, attend weekly didactic classes, simulation, and skill sessions. What the program provides:
The TPP offers various clinical tracks which allows the NLN to develop practice-based competencies in areas that match their interest. Currently we offer tracks in Critical Care and Oncology. In-patient psych, Labor & Deliver,Ante/Post-Partum, Pediatrics, General Medicine, General Surgery,the Emergency Department, and the OR. The Critical Care and Oncology are accredited by the American Nurses CredentialingCenter's Practice to Transition Program. The NLN joins with a dedicated preceptor group for 12 to 26 weeks, depending on the specialty, and attends weekly/biweekly sessions in the Norman Knight Nursing Center for Clinical & Professional Development for the first six months. Topics during this time includes, skills sessions, resiliency building, time management, developing clinical reasoning and clinical judgement as well as simulation exercises specific to NLN's clinical area. The second six months of the program includes 4, full-day sessions concentrating on the professional development of nurses. Topics include ethical decision making, palliative care, how to continue to grow in your profession as well as conducting an Evidence Based Project. Eligibility Requirements: Bachelor's degree in Nursing (BSN) from an CCNE or NLN accredited program Possess a current unencumbered MA RN License
Ability to work a full-time position (including rotation to off shifts, weekends, and holiday)
PLEASE NOTE: To apply for one of these positions you may only do so by visiting the MGH Career Opportunities page at https://www.massgeneral.org/careers and completing an online application.
Norman Knight Nursing Center for Clinical and Professional Development
55 Fruit Street - Austen, 3rd Floor - Boston, MA 02114
Phone: 617-726-3111 - Fax: 617-724-3754
Hours: Monday - Friday, 8am - 4pm
Email: kpcs@partners.org