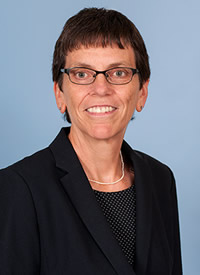 A Warm Welcome from Meg Bourbonniere, RN, PhD
Director, Nursing Research and Innovation, the Yvonne L. Munn Center for Nursing Research

The Yvonne L. Munn Center for Nursing Research and the Center for Innovations in Care Delivery offer nurses and all members of Patient Care Services (PCS) opportunities to participate in research, evidence-based practice and innovation at the point of care. Together, the Centers foster and support an organizational climate that promotes rigorous inquiry to create new knowledge and translate evidence into practice thereby enhancing patient- and family-centered care, and optimizing the professional practice environment.
As the Director of Research and Innovation, I have the privilege of promoting a research and innovation agenda across the MGH community and expanding opportunities for nurse and PCS scientists to carry out their own programs of research. Current areas of research concentration include care of older adults, symptom management, workforce evaluation, complementary therapies, ethics and clinical decision-making, innovation science and quality and safety of care. Through these efforts, nursing and PCS' impact on high quality patient- and family-center care is expressed.
It's an exciting time for research and innovation at MGH. Nursing and PCS research and innovation continues to become more visible throughout MGH, as partnerships and interdisciplinary collaborations grow stronger to enhance research, innovation and evidence-based practice. We are excited about the many new and collaborative opportunities to be realized working with nurses and PCS colleagues at the local, national and international levels to optimize patient care and redesign care delivery models guided by knowledge gained from research and clinical investigation.
Please do not hesitate to reach out to learn more about opportunities at the Munn Center, we look forward to hearing from you!
---
Fostering a Research-Intensive Organization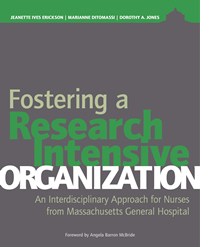 Authors:
Jeanette Ives Erickson, DNP, RN, NEA-BC, FAAN, is Senior Vice President for Patient Care and Chief Nurse at Massachusetts General Hospital;
Marianne Ditomassi, DNP, RN, MBA, is Executive Director of Patient Care and Magnet Recognition at Massachusetts General Hospital;
Dorothy A. Jones, EdD, RN, FAAN, FNI, is a Senior Nurse Scientist and Director Emeritus of the Yvonne L. Munn Center for Nursing Research.
Fostering a Research-Intensive Organization addresses how a strong nursing research agenda can impact patient care and influence the redesign of services needed to effectively respond to a changing healthcare environment. This book provides a comprehensive review to support the practice environment as an important place to advance nursing science through research by:
Providing examples of the MGH experience useful in explaining the importance of a nursing research agenda

Discussing the support for and the conduct of research applicable to nurse's professional and personal development

Demonstrating how to design a research infrastructure and provide the resources, support, and organizational commitment needed to promote research in practice settings

Sharing ideas about mentoring, evidence-based practice, methods and evaluation, instruments development, and post-doctoral fellowships

Developing new funding sources, partnerships, team-building, and engagement in multidisciplinary research activities.
To order the book, please visit: http://www.nursingknowledge.org/fostering-a-research-intensive-organization.html