MGH Clinical Research Nurses
The MGH CRN Collaborative
Group Purpose Statement
The MGH Clinical Research Nurse Collaborative aims to connect and empower CRNs at MGH while facilitating collaboration and integration with the greater MGH community.
Through a group led by experienced Clinical Research Nurses, in collaboration with the Department of Nursing and the Munn Center for Nursing Research, the collaborative seeks to cultivate the partnership between research and clinical care through mentorship, collaboration, and education initiatives for Research Nurses, Research Nurse Practitioners, Staff Nurses and other interested individuals at MGH.
Quarterly CRN Collaborative Newsletter
Connect with the MGH CRN Collaborative
For more information about the collaborative and how to participate, contact kfitch@mgh.harvard.edu or tbresnahan2@mgh.harvard.edu.  Contact sgoodridge@partners.org to be added to our distribution lists.
Join the MGH CRN Collaborative team on Microsoft Teams!
Upcoming CRN Events
CRN Collaborative meetings for 2023 are scheduled between 12:00 – 1:00 PM on the following dates via Zoom:

06 Feb 2023
03 Apr 2023
05 Jun 2023
07 Aug 2023
02 Oct 2023
04 Dec 2023
Please email kfitch@mgh.harvard.edu or tbresnahan2@mgh.harvard.edu  for the zoom link or send a message via Teams!
All are welcome and anyone who is interested is encouraged to attend!
Past CRN Events
4th Annual CRN Meeting with the Boston-New England Chapter of IACRN
Diversity, Equity, and Inclusion in Clinical Research
March 3, 2022
3rd Annual CRN Meeting with the Boston-New England Chapter of IACRN
Making Clinical Research Transgender Inclusive
March 4, 2021
CRN Fireside Chat
Nursing, Research & Innovation in the time of COVID
December 10, 2020
History of Clinical Research Nursing
Clinical research nursing was recognized as a specialty nursing practice by the American Nurses Association in 2016 (ANA & IACRN, 2016). However, research nursing practice is not new. In fact, its roots go back hundreds of years, predating the era of formal nursing education, which, in the US, began in 1893. Nurses have always played a major role in implementing and advancing clinical research, even before there was a name for this specialized practice.
Nurse Nancy Ellicott, first Superintendent of the Rockefeller Institution Hospital in New York City, launched the field of research nursing in the US in 1910 (ANA & IACRN, 2016). Shortly thereafter, dedicated research units were established at other institutions. The MGH Clinical Research Center (CRC) began as Ward IV in the Bulfinch Building in 1925. It was the second center in the United States specifically designed for and dedicated to clinical research. The ward began as just two inpatient beds, accommodating mostly metabolic and endocrine research. In the 1940s, three more inpatient beds were added, and by the 1950s, the unit had grown to 10 beds. The unit continued to grow and evolve into what is now known as the Translational and Clinical Research Centers (TCRC) (Translational and Clinical Research Centers, n.d.)
In addition to dedicated units, clinical trials became more widespread throughout the 1950s and 60s. They began employing nurses to implement study protocols and oversee the care of patients enrolled in the studies. These studies often occurred in medical departments such as cardiology, anesthesia, and diabetes, where small numbers of nurses (sometimes just one) would work with the study teams. As time marched on, the field grew yet was relatively unrecognized or standardized. The founding of The International Association of Clinical Research Nurses (IACRN) in 2009 heightened the visibility of CRN practice and remains the only professional organization dedicated to clinical research nurses (CRNs). MGH clinical research nurses founded the first local IACRN chapter in Boston in 2011 and have held many leadership roles within IACRN over the years. There are currently 409 IACRN members representing 17 different countries. Starting in 2021, IACRN begain offering  the CRN certification (CRN-BC), click here for more information.
CRNs at MGH have long found support through the Yvonne L Munn Center for Nursing Research, where their voices at the Munn Center quarterly meetings have been welcomed since the early 2000s. In addition, the MGH Division of Clinical Research (DCR) Center for Clinical Research Education (CCRE) has hosted many educational activities applicable to CRN practice and in 2008 promoted the Research Nurse Roundtable, a monthly forum for CRNs where CRNs from throughout MGB came together to discuss best practice, share ideas and build a community of practice (Larkin et al., 2012).
The MGH Clinical Research Nurse Collaborative is Established…
In 2018 a group of CRN leaders, in partnership with the Munn Center, saw an opportunity to connect CRNs across MGH and increase CRN visibility within the greater MGH community. Through this group's early efforts, the first MGH Clinical Research Nurse Reception was held in 2019, and the MGH Clinical Research Nurse Collaborative (initially referred to as the MGH Clinical Research Nurse Steering Committee) was formally established shortly thereafter. Since its inception in 2019, the CRN Collaborative has focused its efforts on identifying CRNs across MGH, growing membership, delineating its mission and goals, and building a community of practice through educational opportunities and networking. As of 2021, the CRN Collaborative had identified over 200 nurses practicing as CRNs at MGH. In addition, they established a core membership which now meets every other month. With the steadfast support of the Munn Center and MGH nursing leadership, the group has hosted several successful programs, including the CRN Fireside Chat: Nursing, Research & Innovation in the time of COVID and several CRN receptions. Currently, the group is in the process of developing a standardized orientation for new CRN hires while also working on publications related to CRN practice. The CRN Collaborative is led by an advisory team: Catriona Grant, MSN, RN, Tara Bresnahan, RN, BSN, MBA, Kathleen Fitch, MSN, FNP, Mary E. Larkin, MS, RN, CRN-BC, and Catherine Griffith, RN, PhD.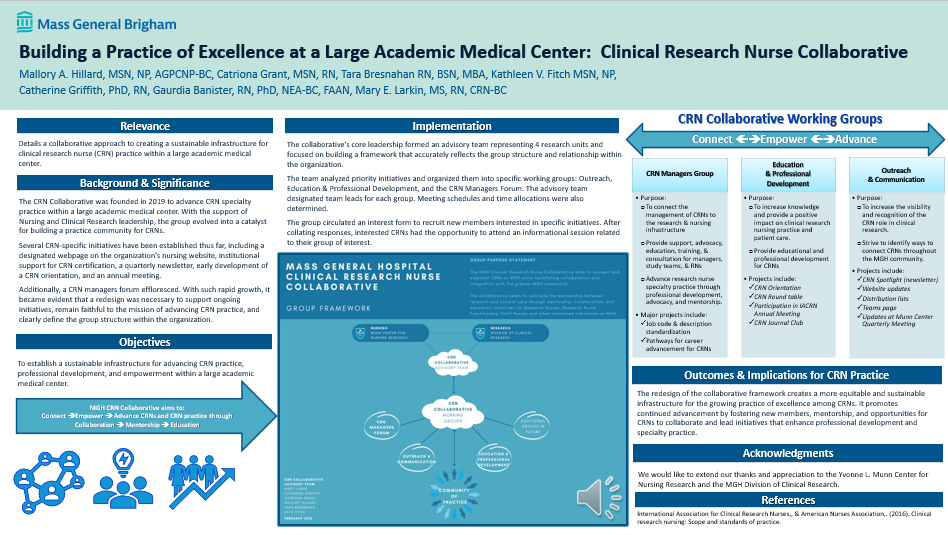 References
American Nurses Association & International Association of Clinical Research Nurses. (2016). Clinical research nursing: Scope and standards of practice.
Larkin, M.E., Griffith, C.A., Pitler, L., Donahue, L., & Sbrolla, A. (2012). Building communities of practice: The research nurse round table. Clinical and Translational Science, 5(5), 428–431. https://doi.org/10.1111/j.1752-8062.2012.00435.x
Means, J.H. (1958). Ward 4: The Mallinckrodt research ward of the Massachusetts General Hospital. Harvard University Press, Cambridge.
Translational and Clinical Research Centers. (n.d.). https://tcrc.mgh.harvard.edu/about/history