The Connell-Jones Endowed Chair Diversity Research Scholars Program (DRS)
The Connell-Jones Endowed Chair Diversity Research Scholars Program (DRS) was established by the Yvonne L. Munn Center for Nursing Research at Massachusetts General Hospital to support, educate and mentor culturally diverse nurses who are interested in research related to health equity and health disparities. Health disparities are preventable differences in the burden of disease, access to health care, and quality of life experienced by some patients due to race, ethnicity, socioeconomic status, employment status, geographic location or a variety of other factors. Disparities have been linked to higher rates of cardiovascular disease, cancer, diabetes, infant mortality, stroke, cognitive impairment and asthma, and can significantly shorten life expectancy.
Unequal Treatment, a landmark report from the Institutes of Medicine in 2004 highlighted the importance of a diverse healthcare workforce in eliminating health disparities, as evidence has shown that diversity improves access to care for racial and ethnic minority patients and leads to greater patient choice and satisfaction, among other benefits.
The goal of the DRS program is to increase the numbers of culturally diverse nurses who will actively consider research as part of their career path. Dr. Gaurdia Banister, the Director of the program stated, "our goal is to inspire clinical nurses to consider conducting research and raising clinical questions that help address the needs of diverse patient populations."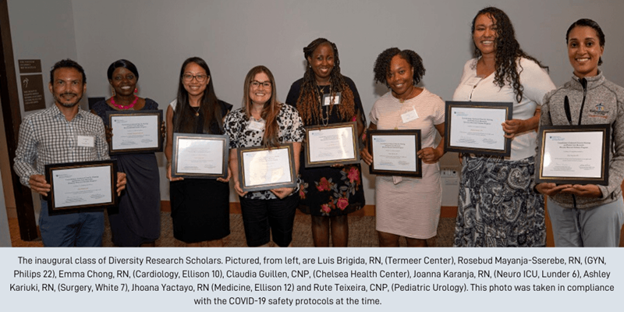 Program Details
The DRS program is open to bachelor's or master's prepared nurses who identify as Latino/Hispanic, African American/Black, Asian, American Indian, Native Hawaiian or Native Alaskan. Candidates have two years of nursing experience, be employed as a nurse at Mass General or a Mass General entity and have leadership endorsement.
The program consists of an eight-week didactic session where scholars learn about the role of nurse scientists and the basics of the research process. Topics include identifying funding sources, conducting a literature search, study methodology, disseminating research results and more. Scholars take a deeper dive into health disparities and social determinants of health, learning more about the negative impact that disparities have on patient wellbeing, what resources are available to help mitigate them, and how nursing research can be used to identify and eliminate disparities. Each scholar collaborates with an academic mentor on a research project related to health disparities.
updated 7/6/2022