Overview of the Munn Center

The Yvonne L. Munn Center for Nursing Research at the Massachusetts General Hospital provides an infrastructure that promotes innovation and mobilization of resources, both funding and development, to support research initiatives that advance clinical practice and optimize quality patient-centered outcomes. The Munn Center, housed within the Institute for Patient Care, was inspired by the vision and dedication of Yvonne L. Munn, RN, MSN, a nurse leader at MGH from 1984-1993, and her desire to advance nursing research at MGH. The official dedication of the Munn Center in May 2008 acknowledged the hospital's commitment to nursing and interdisciplinary research collaborations that foster high quality, cost-effective, patient-family centric care.
MGH Nursing Research Day 2023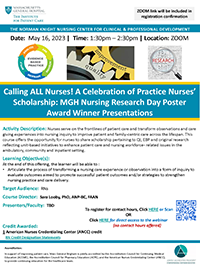 Calling ALL Nurses! A Celebration of Practice Nurses' Scholarship:
MGH Nursing Research Day Poster Award Winner Presentations
Date: May 16, 2023 | Time: 1:30pm – 2:30pm | Location: ZOOM
Location: O'Keeffe Auditorium and Zoom
Nurses serve on the frontlines of patient care and transform observations and care giving experiences into nursing inquiry to improve patient and family-centric care across the lifespan. This course offers the opportunity for nurses to share scholarship pertaining to QI, EBP and original research reflecting unit-based initiatives to enhance patient care and nursing workforce- related issues in the ambulatory, community and inpatient setting.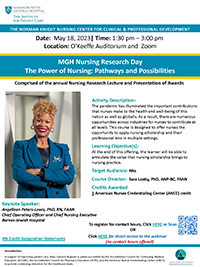 The Power of Nursing: Pathways and Possibilities
Date: May 18 , 2023 | Time: 1:30 pm 3:00 pm
Location: O'Keeffe Auditorium and Zoom
Keynote Speaker: Angelleen Peters Lewis, PhD, RN, FAAN
Chief Operating Officer and Chief Nursing Executive
Barnes Jewish Hospital
The pandemic has illuminated the important contributions that nurses make to the health and well being of this nation as well as globally. As a result, there are numerous opportunities across industries for nurses to contribute at all levels. This course is designed to offer nurses the opportunity to apply nursing scholarship and their professional lens in multiple settings.