ARN Spotlight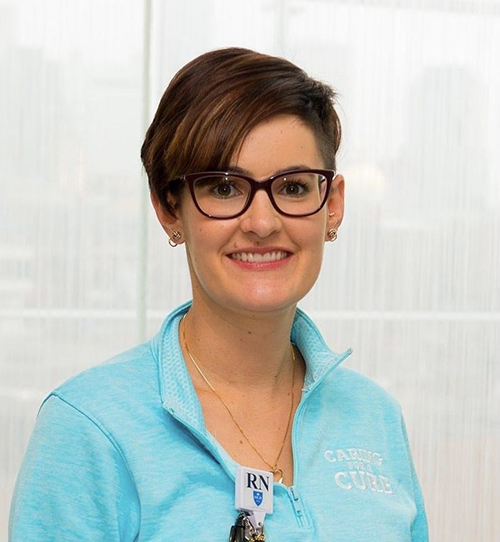 My name is Christina Alexander. I have worked at The MGH since 2009. I began my career as a PCA on an oncology floor (Ellison 14, now Lunder 10) during nursing school. I graduated with my BSN from Salem State University in 2010 and began my career as a new graduate RN on another oncology floor (Philips House 21, now Lunder 9). I LOVE oncology and have been working on the same floor as a staff RN for 11 years.

I became an Oncology Certified Nurse (OCN) in 2013, and continue to maintain my certification status. I was recognized as a Clinical Scholar this year.

Along with Liz, I am a member of the MGH DAISY award selection committee. With every nomination story I read, I am in awe of the incredible nurses I get to call my colleagues.

Some other projects I am involved with are auditing Transparent Classification acuity scores, precepting new grads, experienced nurses, and nursing students, and standardizing care involving an inpatient chemotherapy regimen. I enjoy teaching, and have presented a talk to 3 groups of oncology new graduate RNs on Cellular Therapies, Engineered Therapies, and Immunotherapies. I also helped develop a patient education pamphlet on Chimeric Antigen Receptor (CAR-T) cell therapy. I am also a new member of the MGH Diversity and Inclusion Committee.

I've been working as an ARN on Lunder 9 for about 3 years. I collaborated with nursing leadership to re-structure our unit specific ARN responsibilities. We now have a core group of ARNs who rotate in the role. I love being the link between the patient, bedside RN, and the multidisciplinary team. I feel so gratified when I am able to expedite discharges by identifying and overcoming barriers in real time.

When I'm not working on Lunder 9, I'm at home with my family. I am a mom to my 2 boys, Landon (7) and Beckett (5). My husband Dan works across the Charles as a Physicist at MIT.
Attending a Women's Leadership in Healthcare course this past fall has inspired me to go back to school and pursue an advanced degree. I hope to enroll in a MSN leadership program in the Fall of 2022.

I started my 2 year term as ARN co-chair in March of 2021. I really enjoy learning best practices from all of you! I hope this ARN portal allows us to positively impact direct patient care by sharing our knowledge with one another.
Last Updated: 9/23/2021