ARN Spotlight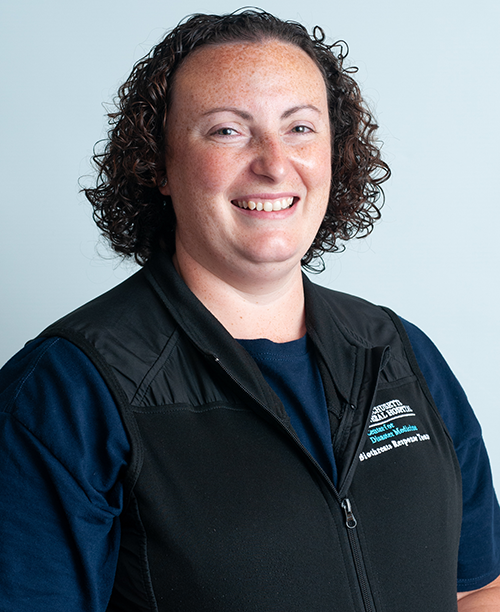 My name is Elizabeth Mover. I have worked at MGH since 2005. I began working on Ellison 9 CICU as a Critical Care Tech during nursing school. It was an amazing opportunity to work on Ellison 9 and I'm incredibly thankful for the nurses there who inspired my love of critical care nursing. I graduated with my BSN from Salem State College (now University) in 2006 and began working as a RN on White 6 (Ortho/Trauma Surgery/Oral Surgery). After a year on White 6, I made the leap to the Medical ICU on Blake 7, which has been my home away from home every since!
I have a passion for critical care nursing. I love caring for the sickest of the sick but also their family members. When the ARN role was being rolled out on Blake 7 many years ago, I was very interested in taking on the role because allowed me to be more involved in the social aspect of patient care and develop expert skills in difficult family conversations. I became a Clinical Scholar in 2019 and a Critical Care Certified Nurse (CCRN) in 2021.
I have participated in many unit based projects such as the Staffing and Scheduling committee, the Family Visitation Taskforce, Central Line Audits, a MICU champion representative for the MBG John Hopkins mobility/ABCDEF bundle committee, creation of the MICU brochure, and collaborated with my Respiratory Therapy colleagues to create an ECMO brochure for families. I lead a project where I send a sympathy card to each family that has a loved one pass away in the MICU. In 2017, I was awarded a grant through the Ladies Visiting Committee, which allowed us to purchase flower seeds to include in the sympathy cards so families could grow a flower in memory of their loved one.
I am an inaugural member of the Biothreats Response Team in the MICU and collaborated with my colleagues in the MICU & Emergency Preparedness to design and test new protocols for the Biocontainment Unit, which is housed in Blake 7. During the COVID-19 pandemic, I assumed the role of ARN and Resource in the MICU. Also, I was a member of the Surge Staffing committee. I've participated on several Collaborative Governance committees including Staff Nurse Advisory and the Patient Experience Committee. I assist in teaching CVVH, BLS, and ACLS through the Knight Center. Along with Christina, I am a member of the MGH DAISY award selection committee.
In 2018/2019, I participate in the American Association of Critical-Care Nurses (AACN) CSI Academy along with 2 of my MICU colleagues. We implemented a change project in the MICU and looked at using weighted blankets in the ICU. I'm currently working with the Innovation Center, the Yvonne Munn Center for Research, and a NYC based company to design and developed an improved medical grade weighted blanket and further the research.
When I'm not here at MGH, I enjoy spending time with my family including my husband who is a Respiratory Therapist here at MGH, my two sons, and our 2 (soon to be 3) goldendoodles. I'm very involved in my sons school and for the past two years have held the position of President for the PTO. In 2018, I was received a cancer diagnosis that quickly changed my role from nurse to patient. I've been an active member in the North Shore Cancer Center/MGH Danvers Cancer Walk each June.
Last Updated: 9/23/2021