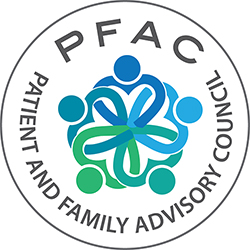 Patient and Family Advisory Councils (PFACs)
What are PFACs?
PFACs integrate, elevate, and promote the patient and family voice in the development of programs, services, and initiatives.
PFACs bring together patients, family members, clinicians, and staff to enhance experiences.
PFAC members participate in hospital committees and provide feedback in many ways.
PFAC members review Patient Experience Award nominations and select staff recipients annually in three categories: individuals, leaders, and departments/teams/programs.
7 active PFACs across Mass General: 
Pediatrics (Mass General Hospital for Children)
Pediatric Oncology
Cancer Center
Cystic Fibrosis
Ambulatory Practice of the Future
Refer a patient/family member to the General PFAC!
The General Patient and Family Advisory Council (PFAC) welcomes members with a diversity of backgrounds and perspectives. The General PFAC is composed of Mass General patients and family members who help shape hospital services, programs and initiatives by providing the patient and family perspective. Members participate in monthly meetings and become involved in committees and task forces across the organization. If you know of any patient or family members who might be a fitting candidate to lend their expert voice to enhancing the experience of care, please direct any referrals, requests for an application, or requests for additional information to MGHGeneralPFAC@partners.org.
View Brochure Learn More
Discharge Phone Calls
While discharge calls were initially an "innovation," given their effect on improved patient care, they have become standard practice.  Discharge phone calls:
Help us express care and concern for our patients after they are discharged home
Serve to positively impact the quality and safety of our patients by providing a means to ensure they understand their discharge instructions and to answer any questions.