Best Practices
Once an aspect of care is identified as needing improvement, we deploy best practices to help address the issues. Here at Mass General, we use best practices that have been proven to work over time in hospitals similar to ours; using an evidence-based approach helps to ensure that our time and effort are well spent and productive.
Measurement Infrastructure
We listen to the voice of our patients in many different ways including:
Patient and Family Advisory Councils (PFACs)
On-going surveys after inpatient/outpatient visits
Letters/emails to the: President's Office, Office of Patient Experience, Quality and Safety, providers and staff
Office of Patient Advocacy
Patient Interviews
Survey Process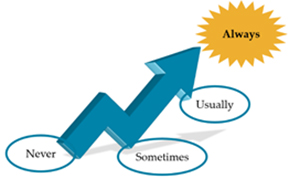 How do we know we are providing the best experience for our patients? We conduct patient satisfaction surveys to complete a picture of the overall patient experience. These surveys provide valuable data and comments on how our care and service is perceived by those we serve. We can use this data to realize our areas of strength and those areas that need improvement.
Patient experience feedback via surveys is one primary way in which we are "guided by the needs of our patients and their families…"
Surveys are administered on an ongoing basis across hospital settings.
Results are reported as percentage of patients who provide the most positive response options (i.e. "always" or "yes").